Dentist in Macomb, MI
All our professionals at Jeffrey R. Teno, D.D.S. maintain the highest levels of accreditation and pursue ongoing education to stay abreast of the latest trends in dentistry. All our staff members at Cobblestone Ridge Dentistry have worked with Dr. Teno for a minimum of ten years.
Jeffrey R. Teno, D.D.S.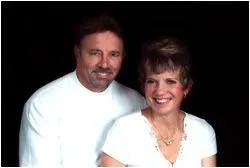 "It's important as a dentist that I spend quality time listening to you as a patient. By focusing on your individual needs, I can more effectively address your concerns during treatment and provide the proper care so that you can get the smile of your dreams."
Expert Care For Smiling Faces
"There are few things that I enjoy more than watching my patients leave the office with a brighter, more healthy smile. That's why I'm so grateful for my extensive educational background and my ability to effectively educate, guide, and encourage my patients."
DDS: With Honors, University of Detroit Dental School, Detroit, MI, 1982
Board-Certified: Northeast Regional Board of Dental Examiners
Licensure: Michigan
Active In The Dental Community
"My involvement in professional organizations keeps me informed of new developments in dentistry - all of which benefits you as a patient. Plus, I've had the opportunity to present and share techniques and difficult cases with other dentists."
Diplomate: American Academy of Pain Management
Member:

American Dental Association
Michigan Dental Association
Macomb Dental Association
Academy of General Dentistry
American Academy of Cosmetic Dentistry
Sharing With Others In The Profession
"I believe that education is an ongoing lifelong process. Advancing one's abilities by keeping in stride with new advances in clinical concepts and technology should not be viewed as just a legal requirement, but rather as an integral part of one's life."
Postdoctoral Training Includes:

One-Visit Root Canals
One-Visit Teeth Whitening
Implant Restoration, Crowns
Bridges, Inlays, Onlays
Veneers
Cosmetic Bonding
Dental Cleanings
Full & Partial Dentures
Non-surgical Gum Care
Pediatric Dentistry
Preventive Dentistry
Pain Management
Air Abrasion Technology
Craniofacial Pain & TMJ Treatment
In his spare time, Dr. Teno enjoys river rafting, photographing landscapes, and teaching martial arts.